Table of Contents
---
IV. Treating GERD with Pantoprazole
a. Pantoprazole and other Prescription Medications
b. Over-the-Counter Medications
---
What is GERD?
a. What is Acid Reflux?
Acid reflux (or acid indigestion) is incredibly common and causes heartburn. According to the American College of Gastroenterology, more than 60 million Americans suffer from heartburn each month. Some studies show that as many as 15 million Americans may suffer from heartburn daily. [1]
Despite being called heartburn, this symptom has nothing to do with the heart. Instead, it is a condition that involves stomach acid flowing backward into the esophagus. The esophagus is the long tube that links the mouth and throat to the stomach.
b. What is GERD?
While acid reflux is very common, if it occurs more than once each week, then you will be diagnosed with GERD. GERD stands for gastroesophageal reflux disease but is also known as chronic acid reflux. While heartburn is the most common symptom of GERD, the condition can cause several other side effects.
JOIN MAILING LIST
Get savings updates for pantoprazole
Specials offers, medication updates and health news delivered right to your inbox.
Keep reading to learn more about gastroesophageal reflux disease, including the causes and symptoms and how pantoprazole (Protonix) can be used to treat the condition.
What Causes GERD?
Acid reflux is caused when stomach acid flows backward into the esophagus. Usually, the valve (lower esophageal sphincter) separating the stomach from the esophagus remains closed. This valve is a ring of muscle and only opens to allow food and liquid from the mouth to enter the stomach. However, if this valve does not tighten correctly or fully close, then both food and stomach acid can flow back into the esophagus, causing acid reflux. [2] GERD occurs when this happens frequently, due to a weakened or dysfunctional lower esophageal sphincter.
Stomach acid (also known as gastric juice or hydrochloric acid) is a very potent chemical. The stomach produces this acid to help digest proteins as well as protect the stomach against bacteria and other pathogens. [3] The stomach is able to resist the potency of the acid, but the esophagus and other areas of the body are not, causing a burning sensation. Over time, this acid can cause the esophagus to become inflamed. [4]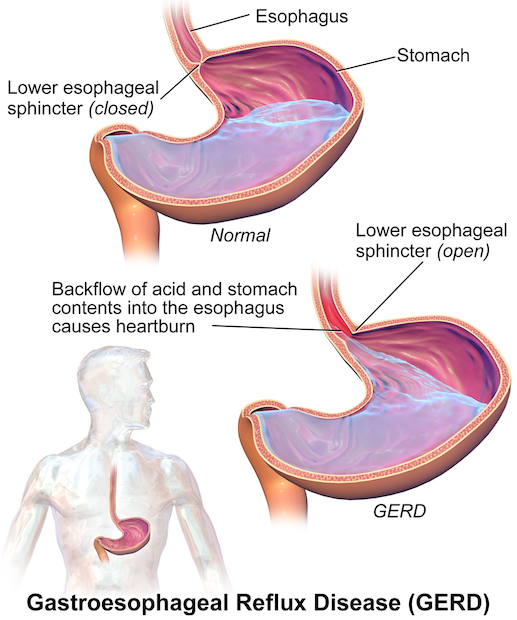 a. Risk Factors for GERD
There are several factors that may increase the risk of developing gastroesophageal reflux disease. While some of these risk factors are the result of lifestyle choices, others are unavoidable.
Diet can play a big role in the risk of GERD. Certain foods and drinks such as chocolate, carbonated drinks, acidic juices, caffeine, and alcohol have been linked with this condition. Additionally, high amounts of salt, eating little dietary fiber, and regularly eating large meals may also increase your risk. People that are at risk of acid reflux should avoid lying down within 3 hours of eating a meal to reduce the likelihood of this occurring. [3]
An unavoidable risk factor for GERD is having a hiatal hernia. A hiatal hernia causes an opening in the body's diaphragm. This hole allows part of the stomach to bulge into the chest cavity, which can lead to GERD. [3]
Other risk factors for developing GERD include:
Being overweight or obese
Being pregnant
Smoking
Certain medications, such as aspirin
Other medical conditions including gastroparesis, lupus, scleroderma, and rheumatoid arthritis [5]
Symptoms of GERD
a. Heartburn
As mentioned, the primary symptom of GERD is heartburn. However, this condition causes several other symptoms and some people may have GERD without suffering from heartburn. [6] Heartburn causes a burning sensation in the chest that starts behind the breastbone before traveling upwards to the throat area. For some people, this may feel like your food is traveling back to the mouth and can leave a sour taste in the back of the throat. [5] This sensation can last for a number of hours and maybe worsened by bending over, lying down, or continuing to eat.
b. Other Common Symptoms
Along with heartburn, GERD patients also experience different forms of chest pain. They may also find it difficult to swallow food and feel like they have a lump in their throat. Recently consumed foods and drinks may regurgitate back up the throat. [4]
c. Nighttime Symptoms
Patients that have gastroesophageal reflux disease may also display other symptoms during the night. Heartburn may be worse at night and disrupt sleep. Additionally, patients may have laryngitis, persistent coughing, or sudden or worsening asthma during the night. [5]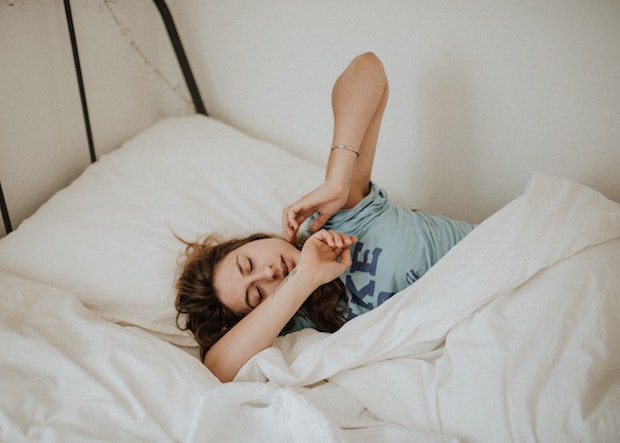 d. Complications
It is important that regular acid reflux is treated promptly. Over an extended period, acid reflux can cause the esophagus to become inflamed, which can then cause complications. As stomach acid wears away the lining tissue of the esophagus, it can cause scar tissue or painful ulcers, making swallowing more difficult. Additionally, it may cause Barrett's esophagus, a more severe case of the damaged esophagus which can increase the risk of developing cancer of the esophagus. [4]
Treating Gerd with Pantoprazole
a. Pantoprazole and other Prescription Medications
One of the most common medications to treat gastroesophageal reflux disease is pantoprazole. Pantoprazole, also known under the brand names Protonix and Pantpas, is a proton pump inhibitor (PPI) medication. This medication works by lowering the amount of acid produced by the stomach. This allows the esophagus time to heal. Pantoprazole inhibits small 'pumps' that are found inside the stomach cells that produce hydrochloric acid. Other common PPI medications include Nexium (esomeprazole) and Prevacid (lansoprazole). GERD may also be treated using H-2 receptor blocker drugs or medications to strengthen the lower esophageal sphincter.
b. Over-the-Counter Medications
For mild cases of GERD or occasional acid reflux, you may choose to use over-the-counter medications. The most common type of OTC medication for this is antacids. Antacids work by neutralizing stomach acid and should give short-term relief for infrequent cases. However, antacids will not work to heal an inflamed esophagus and are, therefore, not an effective treatment for moderate to severe GERD.
c. Lifestyle Changes
There are several lifestyle changes that you can make in order to reduce the frequency of acid reflux. These changes are mostly linked to risk factors for the condition, like diet. Patients should avoid consuming foods and drinks mentioned above, that can trigger acid reflux. Other diet tips include eating slowly and chewing food carefully. Try to avoid lying down for several hours after eating. Being overweight can push your stomach upwards, increasing acid reflux. Maintaining a healthy weight through healthy eating and exercise can help to improve symptoms of acid reflux.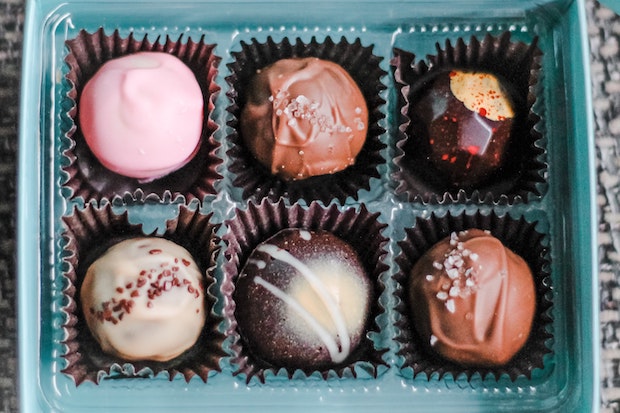 Other lifestyle changes that can help reduce the frequency of GERD include stopping smoking and avoiding wearing tight clothes around your waist. If possible, raising the head of your bed by approximately 8 inches can also be beneficial. This should be done by raising the top legs of the bed. Simply adding extra pillows under your head does not have the same effect. [4]
The content in this article is intended for informational purposes only. This website does not provide medical advice. In all circumstances, you should always seek the advice of your physician and/or other qualified health professionals(s) for drug, medical condition, or treatment advice. The content provided on this website is not a substitute for professional medical advice, diagnosis or treatment.