Table of Contents
---
c. Gout Prevention Medications
---
What is Gout?
Gout is a form of arthritis and affects more than eight million Americans and can cause severe pain. [1]
Gout is not a single disease but is the term given for several conditions that are caused by a build-up of uric acid in the blood. When gout builds up, it typically affects the feet and can cause swelling and severe pain in and around the feet, especially the big toe. As well as the feet, gout may be found in the fingers, elbows, knees, or ankles. [1] This pain can be so severe that it limits or stops the patient's abilities to move.
Gout attacks may be sudden and can wake a patient up during the night. During an attack of gout, joints may feel like they are on fire and be incredibly tender. Once treated with medications like Colcrys, some patients may never have gout symptoms again. Other patients may suffer from recurrent gout that occurs several times a year.
Gout is more common in men and usually affects patients over the age of 30. [2] Almost all gout patients also have other chronic conditions and more than half gout patients have over five other chronic conditions, including diabetes and heart disease. [3] Often, these conditions may worsen the effects of gout.
Keep reading to learn what causes gout and how it can be treated.
What Causes Gout?
Gout is caused by uric acid building up in the blood. A build-up of uric acid can cause urate crystals to form. These crystals are found in a joint or in the surrounding areas and are sharp and needle-like. These crystals then trigger an inflammatory response or flare from the patient's immune system. Flares of gout typically occur overnight and may last for several days.
Uric acid is a chemical created by the body but is usually passed out of the body. This acid is created naturally when it breaks down purines. Purines are natural substances in the body, although they are also found in foods and drinks. Foods and drinks with high levels of purines include alcoholic beverages, bacon, and some seafood or shellfish.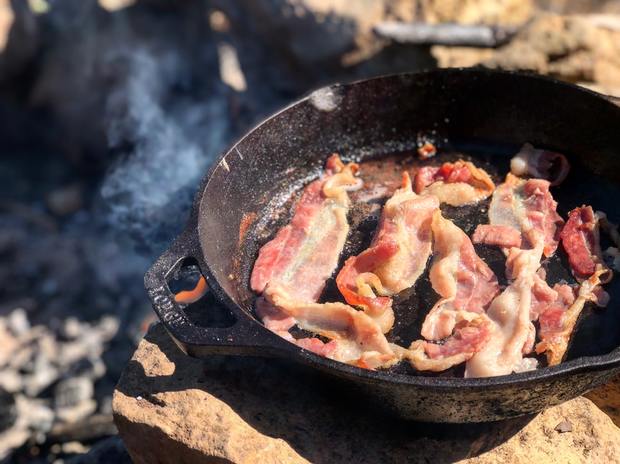 Uric acid usually dissolves in the blood and then passes into the urine through the kidneys. It is passed out of the body through urinating. However, uric acid can build up when the body produces too much uric acid or the body removes too little. [4]
Certain factors can make it more likely to develop gout. increase one's likelihood of getting gout.
a. Family History
Gout is at least partially a genetic condition. Research shows that there are several genes that contribute to gout. These genes involve transporting and removing uric acid. There is an increased risk of developing gout if a close relative already has the condition. [5]
b. Diet
As mentioned previously, uric acid is produced by the body when breaking down purines. This can lead to gout in some people. Consuming foods and drinks that are high in purines increases levels of uric acid in the body. This can then increase the risk of gout. Historically, gout was known as 'the disease of kings' due to the fact it was common amongst wealthy men that could afford to overindulge in food and alcohol.
c. Age
Gout is more likely to occur as a person ages. Gout typically only affects people over the age of 30. In women, there is an increased risk of developing gout post-menopause. This is because of a decrease in levels of estrogen, which helps to remove uric acid from the body. In men, gout is more likely to occur between the ages of 30 and 50.
d. Obesity
Obesity is another risk factor for gout. Uric acid is removed through the urine by the kidneys. However, being overweight or obese decreases the efficiency of the kidneys, which decreases the amount of uric acid that is removed from the body. Patients that are obese tend to develop gout a decade earlier than patients that are a healthy weight. [6]
As well as body weight, gout is also affected by where body fat is stored. Patients with belly fat have a higher risk of developing gout as the stomach produces more chemicals that cause inflammation than other areas of body fat.
e. Other Medical Conditions
Many gout patients suffer from other chronic conditions. This is because these can be risk factors for gout. Chronic conditions such as diabetes, heart disease, and kidney disease can increase the risk of gout as well as untreated high blood pressure. [7]
Symptoms of Gout
Most symptoms of gout occur suddenly and typically occur during the night. Gout attacks are more likely to occur during the night as the body temperature lowers. Lower body temperature helps uric acid crystals to form. Gout is more common in the feet and hands, as these areas often have a lower temperature to the rest of the body. [8] The severity of symptoms differs amongst different patients.
a. Joint Pain
The most well-known sign of gout is joint pain. Although gout usually affects the large joint in the big toe, it can cause occur and cause pain in any joint. Joint pain caused by gout is most severe between the first 4-12 hours after an attack.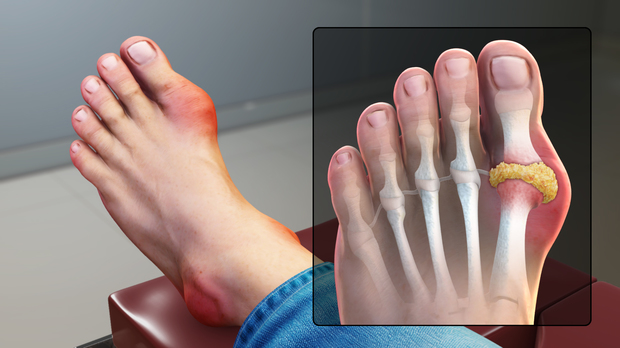 b. Limited Motion
Although gout pain is usually sudden and severe, joint discomfort may last for days or weeks. Joints may tender, appear red or purple in color or be warm to the touch. This lasting discomfort can make movement difficult. Pain in the affected joint can be so severe that it can become impossible to put weight on the knee or foot.
c. Tophi
Another symptom of gout can be tophi. Tophi are small but hard lumps that appear in areas of soft flesh such as hands, feet, elbows and ears. Tophi are tiny concentrations of uric acid crystals and may cause pain or stiffness. Areas of tophi may gradually appear over a period of time.
How to Treat Gout
Gout can cause intense, crippling pain. However, gout treatments are usually very successful. Mild cases of gout may be treated successfully by a change of diet. For moderate to severe gout, medication can help to prevent bone and kidney damage. [1]
a. Diagnosis
Gout is typically diagnosed by a physical exam and a review of the patient's medical history. Key factors in diagnosing gout include the description of the joint pain, how severe the swelling is, and how often pain is experienced. [9] Furthermore, doctors may take an x-ray of the affected joint or take a sample of fluid from the joint to check for the presence of uric acid.
b. Pain Relief Medications
Once gout has been diagnosed, prescription medications may be used to treat the pain of gout. These medications are used to treat acute attacks of gout. A common pain relief medication for acute gout attacks is Colcrys. Colcrys is the brand name for colchicine.
Alternatively, doctors may prescribe a nonsteroidal anti-inflammatory drug (NSAID) such as Celebrex or a corticosteroid such as prednisone. [4]
c. Gout Prevention Medications
For patients with recurrent gout or who are at risk of gout-related complications, doctors may prescribe medication to prevent future gout. Common medications include Uloric (febuxostat) or allopurinol.
d. Lifestyle Changes
As well as taking prescription medications, there are also lifestyle changes that can help to improve the symptoms of gout. An effective way to prevent recurring gout attacks can be to make diet changes. For gout patients, it is important to limit alcohol, red meat, and other foods and drinks that are high in purines.
Patients that are obese and overweight have a higher risk of gout. As well as avoiding foods and drinks that are high in purines, patients should also try to eat a healthy diet and exercise regularly to achieve healthy body weight.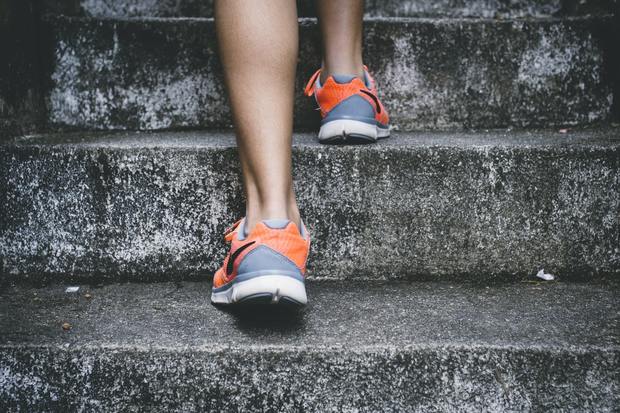 The content in this article is intended for informational purposes only. This website does not provide medical advice. In all circumstances, you should always seek the advice of your physician and/or other qualified health professionals(s) for drug, medical condition, or treatment advice. The content provided on this website is not a substitute for professional medical advice, diagnosis, or treatment.